HEARING AID ACCESSORIES
1) The complete hearing solution – Wireless Assistive Devices
(Works Wonders For Those Who Have Stopped Paying Attention To Sound & Has Waited Too Long To Start Taking Support Of Hearing Aid)
When you combine DIGITAL HEARING AID with assistive listening devices, you can enjoy watching television, listening to music or using your mobile – all completely wireless.

With the
Bluetooth technology
, you can connect directly with any
mobile phone
. So you can talk and hear mobile phone conversations
directly in your Hearing Aid
; And perhaps the best thing about the FM System is a unique feature that allows you to turn the hearing aids'.
Microphones off temporarily – so you can concentrate on your conversation without being disturbed by surrounding sounds.
With the
TV device
, high-quality stereo sound goes from
your television (or music player) directly to your hearing aid
. You can enjoy uninterrupted sound for up to ten hours between recharging the battery without delay or echo.
And if you want to enjoy your favorite TV program without unnecessary background noise, you can easily switch the hearing aids' microphones off temporarily and hear the TV sound only.
There are simple to use
remote control
that lets you easily control hearing aid functions – such as volume, memory program, comfort, clarity etc. These Remote are small enough to fit on a key ring.
2) Phones, TV and Stereo and Other Audio Systems
Watching television, having a conversation on the phone, listening to the stereo at home: all this becomes a pleasure with easy-to-use FM options and digital wireless accessories. Hearing Aid can connect wirelessly to a world of communication choices – phone, TV, FM, MP3 and more.
Hearing Aid Accessories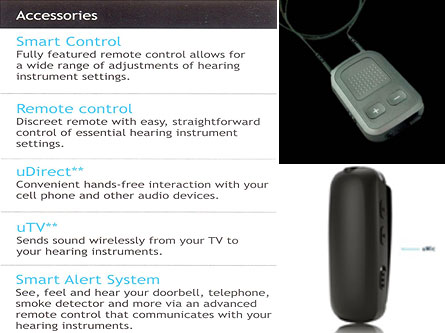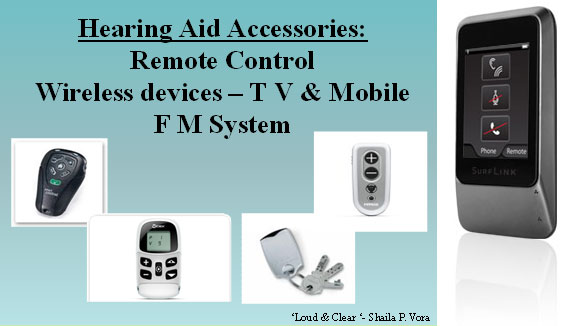 3) Stethtron - specially designed for doctors with hearing loss
The STETHTRON Model HG-900 is designed for medical professionals with hearing loss such as: -
a) Doctors who can hear and converse normally; but have difficulty in hearing heart or lung sounds through a stethoscope. Or, those who have difficulty in picking up faint murmurs; or, blood pressure sounds.
b) Doctors who use a Hearing-Aid to compensate for mild to high neuro-sensory hearing loss. With the hearing-aid, they are able to listen and manage normal conversation; but are unable to use the conventional stethoscope, which is so essential in their medical practice.
Stethtron has a built-in miniature amplifier that gives 10 times the amplification of the conventional stethoscope. The volume can be adjusted by a graduated potentiometer. It uses an electronic Filter switch to differentiate sounds of variable pitch and special noise-reduction circuitry to minimize external noise.
Other features are: - epoxy sealed printed circuit board, chrome-metal chest-piece, soft polymer tubing, feather soft ear-tips, and stainless steel binaural spring. Powered by one 3 Volt Lithium cell, it is extremely small and light in weight.
4) Why FM system is essential for hearing impaired children?
FM system can overcome a typical classroom's sources of distraction like
External noises (planes, playground, traffic, etc)
Internal noises (corridor, neighboring classrooms, etc)
Classroom noises (students talking, writing, ceiling fan, etc)
Also outdoor sessions/education is made possible with FM systems as distance can be overcome where hearing instrument falls short.
Im sure you are aware the advantages of the FM system, however if want further information or demo request on you patients please feel free to contact us.